LABIAPLASTY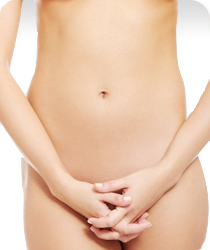 Some plastic surgeries are of a more sensitive nature than others. Labiaplasty, or labia reduction, for instance is one of them. While the majority of plastic surgeons do not perform this procedure at all, Dr. Rodgers' patients can benefit from the care, skill and understanding of an experienced female surgeon performing labiaplasty. Dr. Rodgers approaches labiaplasty with the utmost professionalism and conveniently performs most of these procedures in the comfort of our office with her all female staff.
Labiaplasty can be performed for a variety of reasons, including cosmetic purposes or to reduce pain or embarrassment that larger labia may cause during athletics and/or intercourse. Contrary to popular belief, labia reduction will not enhance sexual pleasure in itself, but can restore confidence in a woman's own sexuality.
Labiaplasty removes excess tissue of enlarged labia minora or majora by one of two techniques. The trim technique helps correct labia discoloration by removing the excess skin. The labia minora (or inner lips) will then be gently moved to just within the labia majora (or outer lips). This procedure can usually be performed at the Denver Plastic Surgery office, unless the patient would prefer to have it done in a hospital.
The wedge technique is a more complex procedure, which is also used to correct the shape or size of the labia. Dr. Rodgers recommends this technique to women who do not want any incisions on the outer surface of their labia and just want them to be set back a bit. This type of surgery is performed in the safety of an operating room.
Additional Information
As with all surgeries, there are certain risks involved. During your initial consultation, Dr. Rodgers will discuss your procedure in depth and will describe the realistic potential results and any possible risks.
Please CLICK HERE to learn more about our exciting diVa technology to help with urinary incontinence, painful intercourse and sagging labial tissues for women. Dr.Rodgers is the first physician in Colorado to introduce this newest laser to help women achieve their best sexual health and enjoyment. As a result of her expert care with this latest laser technology, her office has been designated as a "Sciton Center of Excellence."
LABIAPLASTY IN DENVER AT A GLANCE
---
Procedure
Outpatient surgery performed under local anesthesia or general anesthesia depending on the technique chosen and the patient's request. Process involves removing excess tissue for a slimmed down result.
Benefits
Reduced size of labia major or minora and improved comfort and confidence.
Recovery Time
Patients may experience discomfort and swelling for several days and should refrain from sexual activity, bike riding, horseback riding or excessive athletic activities for 5–6 weeks following surgery to promote proper healing.
Potential Risks
Infection; bleeding; temporary discomfort.

Tips
Keep the area clean to avoid infection and avoid clothing or activities that irritate the surgical site.

---