Body Contouring or Body Lift After Weight Loss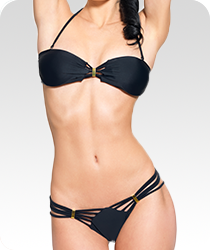 For those who have undergone significant weight loss, it is disappointing to discover those hard-earned results are concealed under layers of sagging, excess skin. Loose and hanging skin can limit daily activities and even lead to chafing, skin infections, and mobility issues.
Body contouring through body lift surgery in Denver is a combination of surgical procedures that improves the appearance of the lower torso by addressing loose and sagging skin on the abdomen, thighs, and buttocks. In many case, the loose skin on the arms and breast can be addressed as well. Due to the extensive nature of the surgery, not all procedures can be performed at the same time. Most patients find the results to be transformative, both emotionally and physically.
Body contouring procedures include tummy tucks, breast lifts, or lower body lift. It will help improve your body's tone and shape. Body contouring helps by reducing the incidences of infection and skin rashes that can form between the folds of excess skin.
Body contouring or a body lift after weight loss can last up to ten years or more. This is a permanent solution to saggy and loose skin. To keep your body fit, maintain a steady weight and use a regular exercise routine and diet regimen.
The ideal candidate for boy contouring has reached their goal of weight loss and wants to keep it off. If you have excess skin in certain areas but minimal excess fat, body contouring, or body lift will improve you appearance. Each patient heals differently and will have varying results.
Full recovery can take several months, and you may be sore during the first few weeks. Follow discharge instructions to optimize your recovery time.
Dr. Christine Rodgers personally evaluates each patient's needs and creates a customized and individualized plan to address their areas of concern. She designs a plan to help patients with significant weight lost get their very best results and boost their self-confidence.