RHINOPLASTY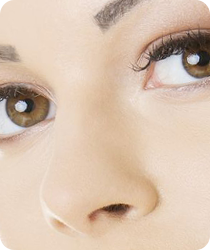 Rhinoplasty, or what many people simply call nasal surgery is one of Dr. Rodgers' favorite procedures to perform because of its dramatic, life-changing results. Many people choose to undergo this reshaping surgery to relieve breathing difficulties due to a deviated septum or to correct an injury from an accident while playing sports. But for many others, it is a purely cosmetic improvement to bring better balance to the face.

Rhinoplasty is one of the most difficult procedures in plastic surgery, so the more experience a surgeon has, the better. Dr. Rodgers has been helping restore patients' self-confidence and better breathing through this procedure for more than three decades, so you can trust her to create the most balanced, natural-looking results.
There are two types of rhinoplasty: open and closed. An open surgery (the more popular choice) allows Dr. Rodgers to more precisely see and manipulate parts of the nose. With this type of procedure, there will be a small scar, but it is very difficult to see due to the location. On the other hand, a closed surgery will result in no scarring at all, but less slightly flexibility in the shaping of the nose.
Additional Information
As with all surgeries, there are certain risks involved. That is why Dr. Rodgers will be sure to discuss your procedure in detail—describing the realistic potential results and any possible risks—during your initial consultation. Dr. Rodgers performs all surgeries in the safety of a hospital and hand selects board-certified anesthesiologists to provide the best possible care.
RHINOPLASTY (NASAL SURGERY) IN DENVER AT A GLANCE
---
Procedure
Outpatient surgery typically takes 3–5 hours (depending on degree of correction) with the patient undergoing general anesthesia. Process involves manual reshaping of the entire nose or a smaller section such as the tip.
Benefits
Improved shape and facial profile. Will benefit airflow for patients with breathing difficulties or septum issues.
Recovery Time
Typically, patients will wear a splint for 7 days and the full results will be visible in a matter of months once all swelling subsides. Procedure typically causes only minimal discomfort. Most patients can return to all regular activity within 1–2 weeks, but strenuous activities and contact sports must be avoided for 2–3 months because the nose may shift back if hit.
Potential Risks
Infection; bleeding; breathing difficulties; scarring; need for revision.
Tips
Patients are advised to sleep slightly upright during healing to help with drainage and wear a high-SPF sunscreen on incisions to prevent increased redness.