Breast Augmentations & Implants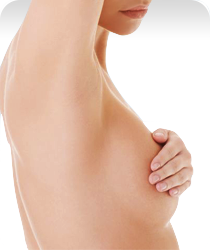 Breast augmentations, or mammoplasties, can be performed for a number of reasons. For some women, their breasts never really develop, which can cause self-esteem issues and difficulty buying or filling out clothes. For others, the breasts may droop after childbirth or following massive weight loss or gain. There is also a subset of patients who look to breast augmentation as a method of breast reconstruction after cancer treatment.
In reality, women's breasts are a very emotional issue. Since breasts are sexual organs, a smaller chest size can cause a severe loss of confidence and a feeling of diminished femininity. The good news is that breast augmentation and breast implants in Denver aren't just helpful in adding volume, but it can also provide greater firmness and put the body into better proportion. What's more, the breast augmentation process using breast implants can be easily combined with a breast lift to create cleavage, fullness and a more youthful figure overall.
The type of breast implant and size is dependent on your skin, muscle tone, and chest wall. Dr. Rodgers takes a highly individualized approach to every surgery. She takes time to discuss how it will affect your total appearance and your future results. After all, breast implants are not for life. They do break down after time and most women will need at least one replacement after 10 years or so.
Additional Information
As with all surgeries, there are certain risks involved. During you initial consultation for breast augmentation and breast implants in Denver, Dr. Rodgers will be sure to discuss your procedure in depth and will describe realistic potential results and any possible risks. Dr. Rodgers performs all surgeries in the safety of a hospital and hand selects board-certified anesthesiologists to provide the best possible care.
BREAST AUGMENTATION & BREAST IMPLANTS IN DENVER AT A GLANCE
---
Procedure
Breast augmentation is an outpatient surgery that typically takes 2–3 hours with the patient undergoing general anesthesia. Process involves inserting saline or silicone-gel implants beneath the pectoral muscle.
Benefits
Larger, firmer, shapelier breasts for an enhanced figure.
Recovery Time
Most patients can resume regular activity after 3–7 days. Athletic activity and lifting, pushing and pulling restrictions for 5 weeks. Bruising, swelling and scarring may take 2 weeks or more to subside. After ample recovery, patients should have full range of activity, barring any complications.
Potential Risks
Infection; decreased breast or nipple sensation; implant rupture or shifting; capsular contracture (hardening of the breasts); complications with mammography or breast-feeding.
Tips
Patients should plan to avoid strenuous activity for at least 5 weeks after surgery, or until Dr. Rodgers says it's safe.
---