THIGH LIFT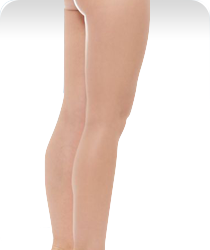 Thigh lifts are used to address excess skin on the inner or outer thighs that often results from massive weight loss or poor skin tone due to aging. Many thigh lift patients have undergone bariatric surgery and have large flaps of skin hanging off of their legs, which in extreme cases can even keep them from enjoying everyday activities.
When it comes to skin and fat—not muscle—no amount of exercise can tighten this area other than actually just removing the excess. So in many cases, a thigh lift is the only viable option to regaining a smoother body contour and a better appearance for the skin itself. There are multiple ways to perform this surgery and it is often combined with a tummy tuck to enhance the effects and provide a more significant transformation. Alone or in conjunction with another surgery, thigh lifts work wonders in restoring the spark of self-esteem that may have been lost.
It's important to understand that thigh lifts are lengthy surgeries that come with a lot of scarring. It is not a procedure that can be taken lightly because it truly requires a lot of commitment from the patient. That said, the benefits are beyond impressive, especially when they're created under the experienced hand of Dr. Christine Rodgers.

Additional Information
As with all surgeries, there are certain risks involved. That is why Dr. Rodgers will be sure to discuss your procedure in detail—describing the realistic potential results and any possible risks—during your initial consultation for a thigh lift in Denver. Dr. Rodgers performs all surgeries in the safety of a hospital and hand selects board-certified anesthesiologists to provide the best possible care.
THIGH LIFT IN DENVER AT A GLANCE
---
Procedure
Procedure takes 3–6 hours with patient undergoing general anesthesia and staying in the hospital for one night. Process involves removing excess fat to reduce bulk and then lifting and suturing remaining tissue in place.

Benefits
Tightened, firmer appearance of the upper legs.

Recovery Time
Healing can take several weeks with patients restricted from more strenuous activities for 4–6 weeks to maintain surgical sites.

Potential Risks
Infection; bleeding; scarring; nerve damage; prolonged bruising and swelling.

Tips
Patients should prepare their homes before surgery to ensure they have easy access to necessities without much walking.

---