TUMMY TUCK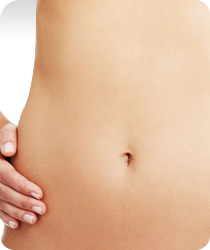 Tummy tucks, also referred to as abdominoplasty are one of Dr. Rodgers' specialties, and she offers them in mini, standard or hi-lateral techniques (your options will be discussed during your initial consultation). These procedures remove excessive skin and/or fat in the abdominal and hip area and are most commonly performed on women who have had children or people who have lost a lot of weight.
The tummy tuck creates the appearance of a flatter stomach and can provide an astonishing confidence boost for people who want to reclaim their slimmer waistline or achieve one for the first time. These procedures are often combined with breast surgery as part of a "Mommy Makeover" or with other body lifts (i.e. thigh, arm and/or back lifts) after a major weight loss.
What's special about Dr. Rodgers' approach is that she will typically combine a tummy tuck with liposuction in the hip and upper abdomen. She does this to address the trunk in all three dimensions so you get a full-spectrum, slimming experience. It's just one more example of how Denver Plastic Surgery thinks ahead and always goes the extra mile.
Tummy Tuck-Full
Additional Information
As with all surgeries, there are certain risks involved. During your initial consultation, Dr. Rodgers will discuss your procedure in detail and will describe the realistic potential results and any possible risks. Tummy tucks, "Mommy Makeovers", and Body lifts are performed in the safety of a hospital by Dr. Rodgers. She works with only a few personally selected anesthesiologists who will provide the best possible care in a caring and compassionate manner.
Tummy Tuck-Mini
TUMMY TUCK IN DENVER AT A GLANCE
---
Procedure
Procedure takes 4–5 hours with the patient undergoing general anesthesia and typically staying in the hospital for one night. Process involves removing excess skin, pulling abdominal muscles together and using liposuction to improve contouring.
Benefits
Tighter, improved profile and abdominal contours.

Recovery Time
Most patients can return to regular activities within 2–4 weeks with lifting and athletic restrictions for 5–6 weeks.

Potential Risks
Infection; bleeding; numbness; scarring.

Tips
Patients should monitor their dietary intake for best results and plan for a couple of weeks off to encourage proper healing.

---