Dr Christine Rodgers MedSpa Skin Products
At Dr Rodgers Medical Skincare Clinic we strive to always have the latest and innovative products that are both safe to use daily, and have been clinically proven to deliver dramatic results. We test every product in the office for weeks before we bring anything into our practice. We do not carry all of any one skincare line, but rather hand pick the products that prove to be the most effective with each line that we have chosen to carry.
Lines we carry:
Revison – Achieve Healthy Beautiful Skin!
Why we love Revision:
WHAT IS REVISION?
Revison is based right here in the United States and have leading research and clinical trials for every one of their skincare products before they ever come to market. Revision products are the latest in comprehensive skincare using anti-aging peptides and growth factors that are safe and deliver beautiful results. Revision has led the medical skincare industry with groundbreaking technologies and innovations that work! Revision has been the first to incorporate peptides that unlock the skins full potential to reverse the signs of aging genetically and due to sun and pollution.
WHY WE TRUST REVISION:
Revision has been in circulation for over 25 years. Each product is launched with proven before and after non-touched photos and punch biopsies of the skin that show reversed aging of the skin visibly as well as clinically. Every ingredient is always listed to show what goes into their product line and most ingredients are natural and they never test anything on animals.
WHY OUR PATIENTS LOVE IT:
All of the products prove effective and typically show results with as little as 2 weeks with best results by 8 weeks! We back all of our products with 100 percent patient satisfaction and you can return it within 2 weeks of date of purchase. However, this almost never occurs when purchasing Revision. They continue to win beauty product awards year after year such as Allure Magazine and NewBeauty Best of Beauty.
Why we love SkinMedica:
WHAT IS SKINMEDICA?
SkinMedica has the power and the brains from the leading pharmaceutical company Allergan which gave us Botox Cosmetics. This product line has the leading high-quality ingredients that work. They have led the way with advanced StemCell growth factors in leu of botanicals. The science has proven effective dramatic results in anti-aging and they deliver them fast.
WHY WE TRUST SKINMEDICA:
SkinMedica was co-founded and developed by a renowned Dermatologist named Dr. Richard Fitzpatrick. His entire philosophy was to develop products that could help heal the skin from within. The products work to correct the damage of the past your skin has received from sun and pollution. SkinMedica is a cruelty free company and never tests their products on animals.
WHY OUR PATIENTS LOVE IT:
We strive to carry different product lines that work for different skin conditions and age. SkinMedica products work wonders on mature skin and patients see results in as little as 2 weeks. SkinMedica consistently receives the latest beauty awards and accolades around the world and continues with the latest scientific clinical trials. The company is always moving forward and continues to evolve with the latest skincare trends and deliver products that work!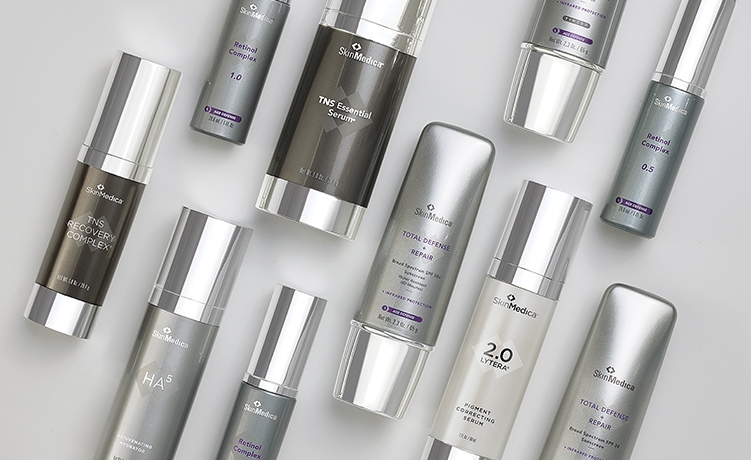 IS Clinical
Why we love IS Clinical:
WHAT IS IS CLINICAL?
IS Clinical always does extensive research and development before each product launch and all of their ingredients are botanical not synthetic so everything in this product line is safe to use during pregnancy and breast feeding. They are still clinically proven dramatic results with pharmaceutical grade of the highest concentration of active ingredients.
WHY WE TRUST IS CLINICAL:
Even though these botanical pharma-grade products are strong and effective they are non-irritating. Even the most sensitive and acne prone skin usually does great on these products. They have products that suit every skin condition and every skin type without the side effects other skincare lines can produce. Every product is free of parabens and sulphates and they also never test on animals.
WHY OUR PATIENTS LOVE IT:
The products of IS Clinical deliver amazing results quickly but they are extremely simple to use. You do not need a long regimen and steps or money to get on amazing Medical Skincare products. Almost everyone tolerates them and most start seeing results within 2 weeks!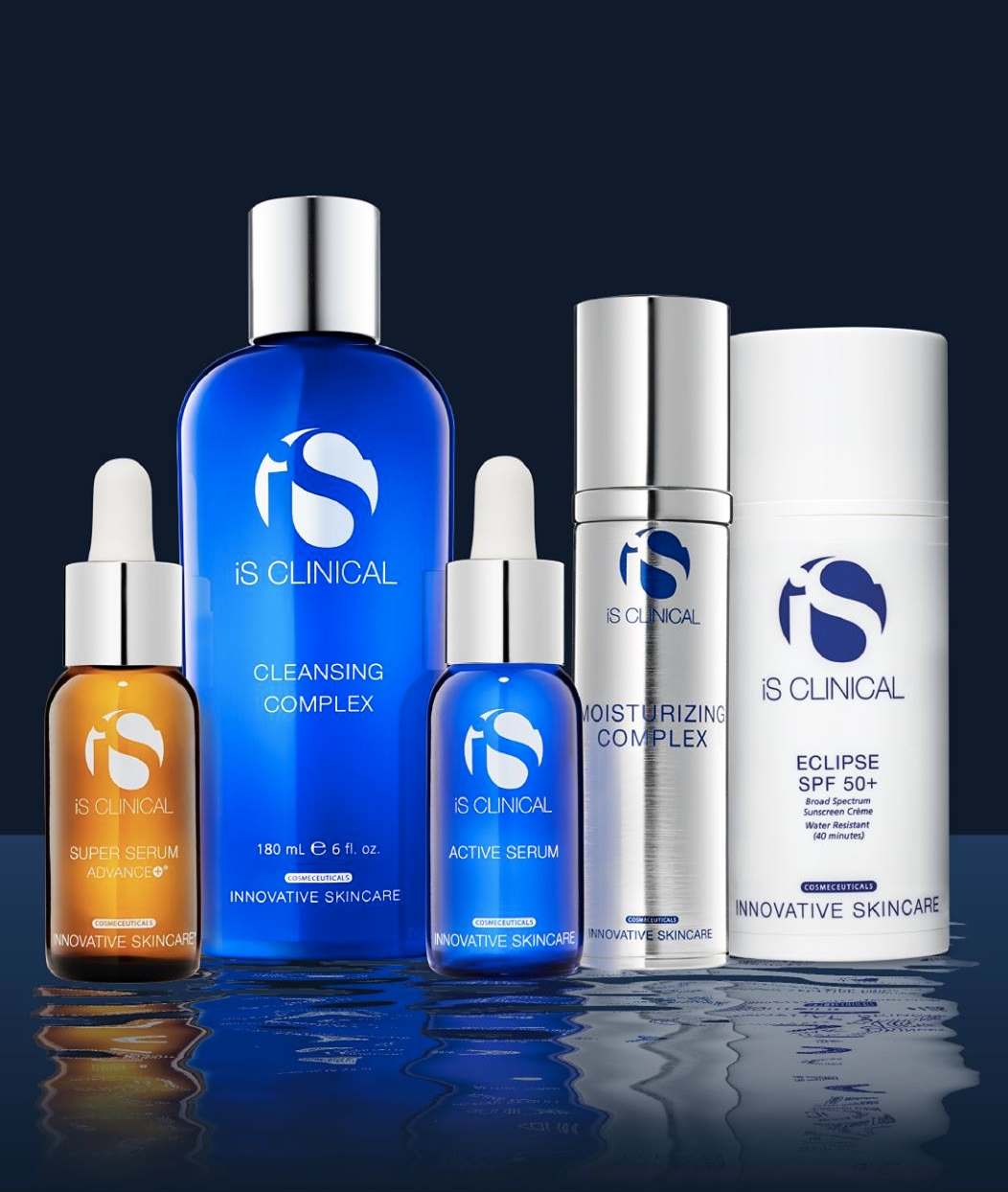 Why we love ColoreScience:
WHAT IS COLORESCIENCE?
Colorscience started out as a mineral makeup line. Over the years they have not only created amazon chemical free makeup but have branched out into medical skincare and sunscreen. Their sunscreens are award winning with max chemical free full spectrum protection from UVA, UVB and Blue Light.
WHY WE TRUST COLORESCIENCE:
Colorscience is safe, powerful but gentle. People with even the most sensitive skin do great using their products. Not only do you get great chemical free makeup and sun protection but most of their products are packed with anti-aging peptides as well. Our number one selling product called Even Up does what the title says it does, evens out your skintone while offering SPF 50 and it actually cools your skin while you work during the day which can help in the fight against inflammation in the skin that can cause acne, rosacea and melasma. Colorscience is also safe for all skin types and they never test their products on animals.
WHY OUR PATIENTS LOVE IT:
It's easy! With the fast paced world we live in people are asking all the time to keep it simple! Several of their best selling products offer one easy step to give you multiple benefits such as SPF, evening out your skin tone and providing anti-aging benefits.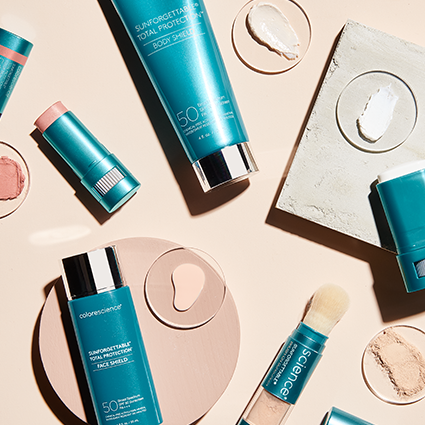 Why we love Alastin: 
WHAT IS ALASTIN?
Alastin is scientifically proven to enhance your results post procedure while dramatically reducing your downtime. With its triHex technology it maximizes your results by supporting your skins natural ability to clear out damaged elastin and collagen. 
WHY WE TRUST ALASTIN:
Alastin's Regnerating Skin Nectar has changed the way we do invasive laser procedures and now we can call them minimally invasive due to the rapidly speeding up recovery time while allowing us to get the maximum benefit to the patient safely. Alastin products are safe for all skin types, paraben free and they never test on animals. 
WHY OUR PATIENTS LOVE IT:
Not only do our patients get quicker healing so less down-time but they usually love the product so much that they wish to stay on it for the long term and not just for pre and post procedure.