Sculptra
Sculptra Aesthetic contains Poly-L-Lactic Acid (PLLA) and is derived from beet sugar. Sculptra Aesthetic acts as a collagen stimulator, and collagen is an important protein found in your connective tissue. Collagen is essential to the building material of your skin.
Sculptra is designed to restore facial volume and to give you noticeable and longer-lasting results that emerge gradually. It targets the deep underlying surface of the skin to maintain hyaluronic acid and elastin plus generate collagen building. Sculptra Aesthetic can help restore fullness to facial wrinkles, folds, and other areas of volume loss. Treatments are gradual and tend to come in a series of 3 or more treatments spaced one month apart. As the body slowly begins to absorb the PLLA, you will see results in as little as one month and up to 6 months after the final injections.
You need, on average, a minimum of three treatments sessions depending on your sky type. Patients who are thinner, older, or who exercise significantly may require more Sculptra products or more treatment sessions. Results last up to 2 years, and it is recommended to do one treatment yearly for maintenance. As compared to other HA fillers, Sculptra has the advantage of rejuvenating the whole face by restoring collagen more globally and gradually. As a result, Sculptra results in a softer, more youthful you.
AS a note, massage the area injected for at least five minutes five times a daily for five days. This massaging will prevent nodule formation and keep the Sculptra injections smooth and dispersed in your tissues rather than letting too much collagen form in one area.
Sculptra is safe and was approved by the FDA in 2004 to correct lipoatrophy or facial fat loss. However, do not use Sculptra if you are at risk for hypertrophic scarring or keloid formation.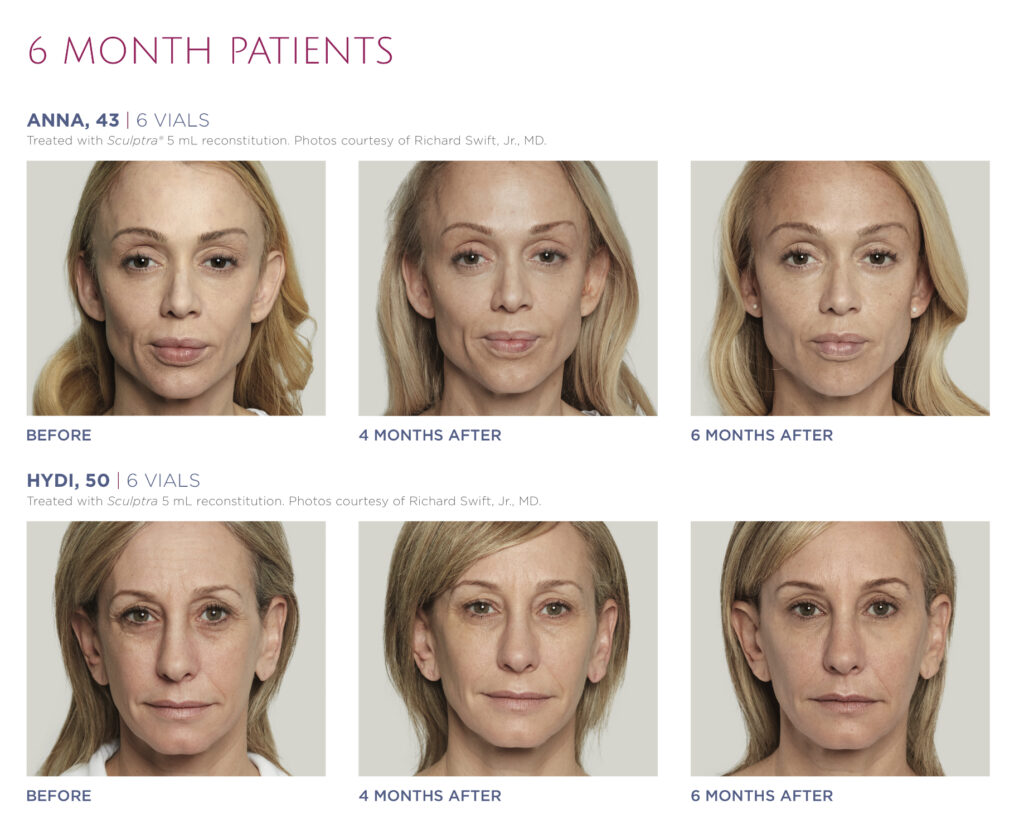 SCULPTRA IN DENVER AT A GLANCE
---
Procedure
Sculptra is a series of a few injections performed by a nurse or physician's assistant aimed to enhance the volume of your skin. This age-defying treatment targets collagen deep beneath the surface.

Benefits
Reduces the appearance of facial wrinkles, folds, and smile lines.

Recovery Time
No downtime.

Potential Risks
Some patients may experience very minimal bruising and redness immediately following Sculptra.

Tips
Patients are advised to avoid wearing makeup, perfumes, and lotions on the day of the procedure.

---