Breast Augmentation Revision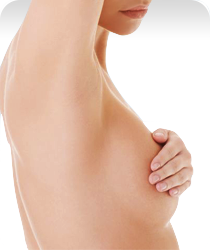 Not every surgeon has the experience or skill required to create excellent results. The truth is, there is a growing number of women searching for corrective, breast augmentation revision surgery following an initial augmentation or other breast surgery that has been performed by another doctor. This procedure also applies to women whose breasts have changed form throughout the years or whose implants have ruptured.
Breast revisions are more complicated than a typical augmentation because Dr. Rodgers needs to correct an issue or problem rather than creating enhanced volume, shape or fullness for the first time. Dr. Rodgers understands what's required to complete these complex procedures in the safest way possible and in each patient's very best interest.
During our breast augmentation surgery, Dr. Rodgers' 30+ years of experience definitely prove their value. Breast revisions often involve taking out an old implant, making a new pocket and inserting a new implant or reshaping your existing breast tissue, which can create issues with nipple blood supply if not approached with the delicate touch that has earned Dr. Rodgers statewide and national acclaim.
Additional Information
As with all surgeries, there are certain risks involved. That is why Dr. Rodgers will be sure to discuss your procedure in detail—describing the realistic potential results and any possible risks—during your initial consultation. Dr. Rodgers performs all surgeries in the safety of a hospital and hand selects board-certified anesthesiologists to provide the best possible care.
BREAST AUGMENTATION REVISION IN DENVER AT A GLANCE
---
Procedure
Most breast augmentation revision surgeries in Denver are outpatient surgeries and the procedure time depends on the level of correction required. Most take between 3–4 hours with ruptured implants taking longer.
Benefits
Regaining the desired breast shape and creating a more natural look.
Recovery Time
Most patients can resume regular activity after 3–7 days with lifting, pushing and pulling restrictions for 5 weeks to avoid splitting the wound and infection. Bruising, swelling and scarring may take 2 weeks or more to subside.
Potential Risks
Infection; decreased breast or nipple sensation; scarring; difficulty with mammography (if a new implant is inserted).
Tips
Patients should wear supportive undergarments throughout the healing period and follow Dr. Rodgers' instructions to maximize healing and prevent incision breakdown.