Face Lift & Neck Lift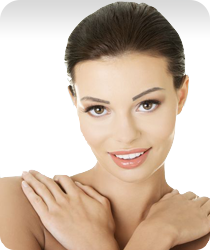 Denver Plastic Surgery offers face lifts and neck lifts in Denver to remove excess skin and relocate skin and muscle back where it belongs: higher up on the face. If you're wondering why we have combined face and neck lifts, the answer is simple: because Dr. Rodgers looks at these two procedures as one. Alone, they can produce some success, but together, they can create a far more significant (and much longer lasting) result that can take years off of your appearance.
Typically for women 40+ with loss of tone in the face or jowls, bands in the neck, droopy cheeks or general loss of facial tone, Dr. Rodgers' face and brow lifts are often combined with fat injections (restores volume to the eyes, temples and above the lips) and laser treatments near the eyes and mouth (smoothes wrinkles and improves skin tone). Dr. Rodgers believes in this all-inclusive approach because a facelift alone cannot treat the fine wrinkles and because the natural aging process doesn't just create structural problems, but also dull, brownish skin that has lost its light reflex. If you don't address both, you can't achieve the best results.
You may also be interested to learn why Dr. Rodgers' face lifts and neck lifts in Denver, Colorado truly go above and beyond. By spending extra time on the neck and using a special type of suture, her surgeries last far longer than most. She also works carefully to not put a lot of tension on the skin so that scarring is far less visible.
Additional Information
As with all surgeries, there are certain risks involved. That is why Dr. Rodgers will be sure to discuss your procedure in detail—describing the realistic potential results and any possible risks—during your initial consultation. Dr. Rodgers performs all face lift and neck lift surgeries in the safety of a hospital and hand selects board-certified anesthesiologists to provide the best possible care.
FACE LIFT & NECK LIFT IN DENVER, COLORADO AT A GLANCE
---
Procedure
Surgery takes approximately 7-10 hours due to the precise redraping and highly technical suturing. Surgical time varies depending on the extent of the procedure decided upon between the patient and Dr. Rodgers. Patients will spend the night in the hospital where all of their immediate post- op care will be met. Procedure is performed under general anesthesia.
Benefits
A more defined neck and jaw line revealing a youthful, contoured appearance.
Recovery Time
Pain is limited and the face heals remarkably fast. Most patients resume normal activities within a month.
Potential Risks
Infection; bleeding; loss of sensation; feeling of tightness; motor nerve damage; skin blood supply issues; scarring.
---