LIPOSUCTION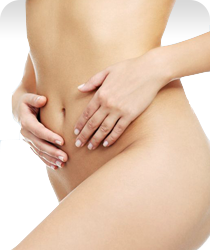 While performing Liposuction, Denver Plastic Surgery recognizes that this surgical procedure can be beneficial for all kinds of people—from those who are overweight to those who are actually very slim, but have targeted fat deposits in areas that exercise won't eliminate. There is one important note though: this procedure is not designed for people who are massively overweight and is not meant for weight loss.
Here at Denver Plastic Surgery, Dr. Rodgers uses Vaser Lipo®, an advanced technology that is both less traumatic to the patient and results in less bruising and swelling. During the procedure, Dr. Rodgers inserts a slim tube called a cannula, which uses ultrasonic waves to destroy fat cells. The fat cells are then suctioned out with a set of small cannulas.
Liposuction is a surgery that offers an instant, visible improvement, and it is often combined with other body contouring procedures. It requires a skillful hand and eye, because overdoing it can create unsightly indentations. That's why it is no wonder so many people visit our practice in Denver for the ultimate in safe, beautiful results.
Additional Information
As with all surgeries, there are certain risks involved. That is why Dr. Rodgers will be sure to discuss your procedure in detail—describing the realistic potential results and any possible risks—during your initial consultation for liposuction in Denver. Dr. Rodgers performs all surgeries in the safety of a hospital and hand selects board-certified anesthesiologists to provide the best possible care.
LIPOSUCTION IN DENVER AT A GLANCE
---
Procedure
Outpatient surgery typically takes 1–3 hours or more depending on the size and number of areas being treated. Process involves destroying and vacuuming out fatty tissues.
Benefits
Improved body contouring and a slimmer appearance.
Recovery Time
Most patients can resume most regular activities within 1–2 weeks and heavier activities within a month. Procedure requires patients to wear compression garments for several weeks. Bruising and swelling may last up to 5–6 weeks.
Potential Risks
Infection; soreness; bruising, skin rippling; fluid retention; dimpling; burns.
Tips
Patients should monitor their dietary intake for best results.