EYELID SURGERY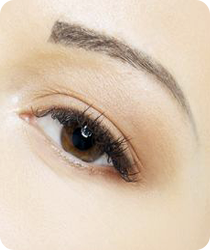 Eyelid surgery, or eyelid lifts, can be performed on both the upper and lower eyelids to correct drooping or volume loss and offer a more youthful, refreshed appearance. Dr. Rodgers and the entire Denver Plastic Surgery team understand that the eyes are an important and delicate feature. The eyes have a large impact on the way your face looks as a whole, so for those with excess skin or fat around in that area, an eyelid lift may be an ideal solution.
An upper eyelid surgery is most often combined with a brow lift because the two procedures work well together to create longer lasting results. Typically, some fat will be removed, which can cause a scar, but it falls in your natural fold making it very difficult to see. One important thing to note is that an upper eyelid lift does not change the shape of the eyes, but rather it opens them up and gives them a more youthful appearance.
Patients who may be interested in a lower eyelid lift may have fat protruding in their lower lids because the tissue has weakened. This gives a tired look to the eyes and can also cause darkening in the tear trough area, which disrupts the harmony of the face. Typically, Dr. Rodgers will remove the fat via an incision inside the lower eyelid, tighten the skin with a laser and then put fat back in to seamlessly blend the lower eyelid with the cheek. This extra attention to detail avoids giving the eyes a hollow look.
When both the upper and lower eyelid lift procedures happen together, they are often referred to as a "quad blepharoplasty."
Additional Information
As with all surgeries, there are certain risks involved. That is why Dr. Rodgers will be sure to discuss your procedure in detail—describing the realistic potential results and any possible risks—during the initial consultation for your eyelid surgery in Denver. Dr. Rodgers performs all surgeries in the safety of a hospital and hand selects board-certified anesthesiologists to provide the best possible care.
Eyelid Surgery – Upper
Eyelid Surgery – Lower
EYELID SURGERY IN DENVER AT A GLANCE
---
Procedure
Potential procedures include the excision of excess skin, laser correction and revolumizing with fat transfers. Frequently combined with a brow lift or other facial surgery, this outpatient surgery takes 1–2 hours with the patient undergoing general anesthesia.
Benefits
A rejuvenated, refreshed appearance around the eyes.
Recovery Time
Discomfort may last a couple days and most patients can return to regular activities within a few days to a week and athletic activities within 3 weeks.
Potential Risks
Infection; bleeding; scarring; temporary eyelid swelling or soreness; effects to vision (rare).
Tips
Patients should keep the sutures of upper lids in place for 7 days and laser areas need to be protected from sun exposure.