Do you ever look in the mirror and notice all the new things happening to your skin as time goes by? Who doesn't?! As we age there are not only noticeable changes to the outside of our skin, but there are also lots of changes to the inside, where you can't see!
To address skin conditions, both on the surface of the skin, and in the deeper layers of dermis that you can't see, we use the VISIA Digital Skin Analysis System.
The VISIA Digital Skin Analysis System is a diagnostic tool that allows us to visualize and measure skin blemishes and wrinkles above and below the surface of your skin. This allows us to customize a skin care treatment program for you to specifically target your problem areas with complexion, age/dark spots, UV damaged areas, wrinkles and more. We use the VISIA to determine the overall condition and age of your skin and provide a revolutionary new metric to guide the selection of skin care products and treatment options, specific to YOU.
Measures: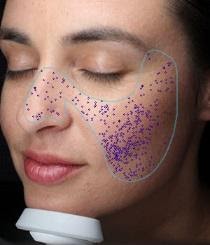 By visualizing the damaged areas beneath your skin, we are able to prevent further damage and restore your skin's youth, texture and health. With this added capability of the skin analyzer, we can systemically diagnose, develop a holistic plan, and address all your cosmetic skin needs, not only by surgery but also by non-invasive laser care. To find out more information and see how the VISIA system can benefit you, contact us at 303-320-8618 or info@denverplastticsurgery.com to schedule your complimentary skin care consultation.