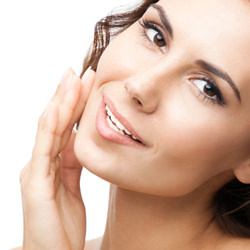 IPL treatment, or Intense Pulsed Light therapy, is a non-surgical skin-resurfacing technology that incorporates high intensity pulses of controlled light, which are absorbed by darker-pigmented cells in the skin.
Years of exposure to radiation and sun are the primary causes of skin discolorations such as hyperpigmentation, discoloration and unevenness on the skin's surface. IPL treatment, provided by the skilled practitioners at Dr. Christine Rodgers's Denver office, offers a gentle, pain-free treatment that typically takes between 30 and 60 minutes to complete. There is also no downtime involved.
The light pulses benefit the skin on a molecular level by heating up the cells and stimulating the rejuvenation process. Most patients require several quick and convenient treatments to maximize results.
To learn more about IPL therapy, you can contact our office to set up a consultation.