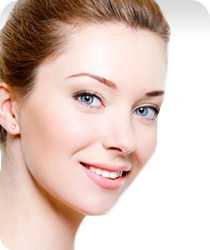 Much like dermal fillers, fat transfers are used to correct volume loss and deep wrinkles in the face. Clients can achieve incredible, youthful plumpness in the lips, cheeks, and lower eyelids (one area that is limited for other fillers) using this safe and highly effective treatment.
Many clients in Denver choose fat transfers over dermal fillers because fat transfers do not require sourcing materials from outside the body. Dr. Rodgers will typically harvest fat from the abdomen, inner thighs, or wherever patients would like to have some fat removed. The fat will be prepared in a sterile way and then, Dr. Rodgers will carefully re-inject it into the face. This treatment is also helpful in resurfacing the skin to improve texture and tone and is routinely used with face and neck lifts or other facial procedures.
Dr. Rodgers strongly believes that fat injections into the face will lengthen the results of facelifts and add dramatically to the rejuvenation of the face. Fat transfers can last from 6 months to several years, and subsequent treatments can last even longer.
Fat transfer to the face are minimally invasive and versatile. Different goals can be achieved with the procedure, for example filling in lost facial volume and reducing fat in other areas.
As with all surgeries, there are certain risks involved. During the initial consultation, Dr. Rodgers will discuss your procedure in depth, and will describe the realistic potential results and any possible risks.
FAT TRANSFERS IN DENVER AT A GLANCE
---
Procedure
Outpatient procedure most comfortably performed under anesthesia. Involves taking fat from elsewhere in the body and injecting into the face.
Benefits
Filled-in lines and wrinkles, recontoured features and increased plumpness for a youthful, rejuvenated look.
Recovery Time
Swelling and bruising can last several weeks depending on amount of correction.
Potential Risks
Bruising; swelling.

Tips
Clients are able to safely wear concealer once the injection sites are healed.