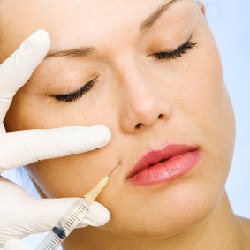 Juvederm is one of many available soft-tissue dermal fillers designed to fill in wrinkles and creases, making a patient's skin smooth and line-free. This creates a more youthful appearance that lasts for months at a time.
Before administering dermal fillers such as Juvederm, board-certified surgeon Dr. Christine Rodgers' staff of professionals may choose to use local anesthesia to numb the target injection areas. It may not be necessary to use any anesthesia, as levels of discomfort vary with this procedure and can be minimal. You'll be able to discuss this with experienced practitioners before the treatment during a consultation.
Topical anesthesia can be used but can also be combined with the solution inside the injectable fillers. Juvederm can be good for injections in the cheeks to address lines that come from the nose down to the corner of the mouth, because it helps to volumize and plump the region just beneath the skin.
To make a med spa appointment with Dr. Rodgers' highly-skilled staff, you can contact her Denver office today!